The Watkins Dominator is an amplifier from an era when 17 watts of power brought horror and fear to the face of many a promoter
F A Q. Is the Limited Edition Watkins Dominator still being made? Can I still order one?
Answer. Yes, the amplifier is available to order.

Privacy Notice: All personal data submitted for enquiries or purchases will be handled in accordance with our
Privacy Policy


To mark fifty years of the legend, a fully licensed limited edition reissue of one hundred hand crafted boutique quality "Watkins Dominator" Amplifiers have been approved by the original designer, manufacturer, and founder of "Watkins Electric Music" of London (w-e-m)
Mr. Charlie Watkins
This iconic reissue, built by John Beer, is only available through
Amp-Fix and approved retail outlets.
An official reissue of the Watkins Westminster and Clubman amplifiers of the same era is also available - see links on the home page.
The Watkins Dominator limited edition reissue, is a high quality boutique recreation fully approved by the legendary Charlie Watkins. Hand built in the traditional way, right here in England, where it was first born way back in the middle of the last century. The new Watkins Dominator features a birch ply cabinet, loaded with two Celestion G10 Greenback speakers. The amplifier is of course all valve and hand wired with components mounted on a traditional style turret board. The Watkins Dominator, is a two channel amp with two inputs per channel. Channel 1 is the normal channel with Volume and a single tone control. Channel 2 the tremolo channel has Volume, Tone, plus Tremolo Speed and Depth controls. The valve complement is Rectifier EZ81 - Preamp and tremolo are three ECC83 / 12AX7. Power amp runs a pair of EL84 valves in a push-pull configuration running close to class A in cathode bias, with no negative feedback loop.
The power transformer can be connected for either 120 volt or 240 volt options. A special 100 volt version for Japan is available on request.
---
The amplifier features a steel chassis, in a powder coated gold enamel finish. Transformers, made in England, are specially wound to meet the original specifications.
Even the knobs were all hand made by a specialist company in moulds formed from an original set of knobs borrowed from a valued customer Mr. Walter Thornton.
Control panels fitted to the Golden Brown amplifiers are gold in colour with red lettering and graphics.
No printed circuit boards in here. The Paxolin / Tufnol laminate turret boards are manufactured in house by Amp-Fix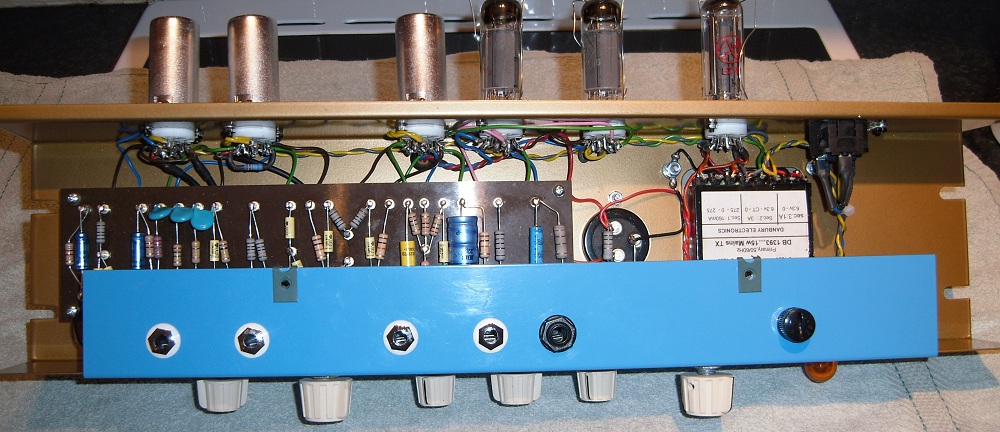 Every Watkins Dominator chassis is individually wired, assembled and tested by John Beer in the Amp-Fix workshops
The Limited Edition Watkins Dominator amplifier feature a steel storage compartment, in the rear panel, all 100 of them pre-signed by Charlie Watkins himself.
There have been some rumours through the musical 'grape-vine' that WEM have licensed various people to manufacture some of our old cabinet designs. This interest started after Pink Floyd's tour some while back.

We make it clear that we have not given anyone permission to make or use our name or designs and that we are not remaking any of these old products at present.

The exception to this is British Amplifiers.


http://www.wemwatkins.co.uk/cabrumour.htm
N.B. The above reference to British Amplifiers was
prior to the death of the M.D. Barry Spong.
Permission has since been passed to Amp-Fix.
Charlie Watkins
signing one of the New Watkins Dominator's storage boxes, while enjoying a nice cup of tea.
You simply can't get more British than that.
For more information about Charlie Watkins and his role in the 'Stones in the Park' and other festivals click here
THE WATKINS DOMINATOR LIMITED EDITION REISSUE
LIVERY OPTIONS
The Standard two tone golden brown livery was chosen for two reasons. One, to enhance the "fiftieth anniversary" of the model, and two, because the original turquoise blue is no longer available.. Since launching the reissue, we have found a very limited supply of a vintage blue material similar to that used by Watkins in the early to mid sixties, and a red which also suits the Watkins Dominator very nicely, even though they were never previously made in red.
The same era, Watkins Westminster and Clubman amplifiers were offered in red and cream and a reissue of these models is also available to order.
The Reissue Watkins Dominator is available as an option in Retro Blue or Dansette Red for as long as material stocks last. We have a very limited amount of Blue, Red, and White fleck vintage 60's material, once it's gone there is highly unlikely to be any more. Currently the blue is by far the most popular choice of colour and is offered strictly on a first come first served basis. The Dansette Red has since all been used or reserved, therefore is sadly no longer available.

Grill cloth patterns distorted by the photographic process. Higher definition pictures available on request.
Golden Brown
Retro Blue
Dansette Red, Serial No. 050/100
A Once Only Special: £ ask
Prices: £1995.
See 'Ordering and Payment Details' page for ordering information.
To convert prices to the currency of your country go to XE Currency Converter, enter the amount in GBP and select the country to convert to.
XE - Universal Currency Converter
---
The Reissue Watkins Dominator price includes a smart high quality handmade protective cover as shown below.
These covers are available as an accessory for any original Watkins V front Dominator, priced at £58.00 each.
Available in Blue or Black with white piping.
---
A two part review by a highly acclaimed young guitarist by the name of Kyle Hall, who bought his
Reissue Watkins Dominator amplifier serial number 012/100 from Amp-Fix during the August of 2010.
Watkins Dominator Review Part 1 - YouTube Watkins Dominator Review Part 2 - YouTube
The first link below is a promotional video from top rated guitarist Mr Joe Ortiz
Watkins Dominator Fiftieth anniversary reissue - YouTube
Darrel Higham talking about his red Dominator - YouTube
Forget the 18watt Blues Breaker, this is the Daddy of them all.
Shown below left is the brochure for the original Mk1 Watkins Dominator, the reissue is a Mk1-b right.
Miracles have been worked to make the reissue as close to the original as possible, but I'm afraid we just can't match the price!
Or can we?
Mk 1 possibly from a 1959 catalogue £38-10-0
Mk 1-b from a 1964 catalogue 42 gns.
= £44 and 2 shillings
In 1960 the Average hourly rate was the equivalent of about 34.6 new pence per hour. The minimum rate now is £8.72 per hour.
Only 100 Reissue Watkins Dominator amplifiers will be made. Do not miss the opportunity to own one of these highly respected and collectable amplifiers. Order yours now, or register an interest with Amp-Fix, with no obligation to buy until a confirmed order is placed.
On confirmation of your order a 25% deposit will be required with the balance payable on completion, or as otherwise agreed.
Priority will be given to confirmed orders only and in the order of which they are placed.
Note: August 2018: A deposit system has become necessary due to a high number of"keen prospective buyers" having caused a long waiting list, only to back out when it was time to pay for the amplifier they had ordered! Most of these nice people totally ignored me when I notified them of a completion date. The result has been loss of sales of the amplifiers they had ordered, and loss of orders due to the waiting list they had created. This situation I cannot allow to continue. Register an interest by all means, or order via one of the links at the bottom of this page.
Home and overseas enquiries welcomed.
Amp-Fix reserves the right to make alterations to the spec or materials as is deemed necessary and without prior notice.
Only 100 of these amplifiers will ever be produced. All will be issued with a certificate of authenticity, composed by the late CHARLIE WATKINS, personally signed by his widow Mrs June Watkins.

ANNOUNCEMENT February 2015
We are sad to announce that "Charlie Watkins", the founder and director of Watkins Electric Music, w-e-m Ltd, passed away in his sleep on the 28th October 2014 aged 91 years.

w-e-m Ltd is to continue trading under the direction of Mrs J Watkins, from its Upper Norwood, London office.
Mrs. Watkins will be pleased to help with your enquiries for current products, during normal working hours.

Tel: 0208 6795575
Website: www.wemwatkins.co.uk

PLEASE NOTE: Mrs. Watkins is not able to help with any advice or information relating to Watkins or w-e-m equipment manufactured prior to 2005.
For all inquiries about vintage Watkins w-e-m products please email

The manufacture and sales of the Watkins Dominator, Westminster & Clubman Reissue Amplifiers are licensed exclusively by w-e-m to John Beer.